Question with 5 notes
cumaeansibyl asked: you could probably make Siouxsie's bracelets for under $30 -- a cheap pair of bondage cuffs, a pack or two of jingle bells, and a stout leather needle. does someone do a post-punk-crafts tumblr because that would be fun
This is actually a really great idea, partly because there's a lot of snobbery about diy in the punk/related subcultures community, in the sense that people look down on folks for not having the skills or supplies to make things, and buying instead.  But they don't help, they just sneer—"just diy it," is basically the refrain, ignoring the fact that diy takes a lot of skill much of the time.
So yeah, an actual subculture-related craft blog, with, if not full tutorials, at least tips and hints, would be awesome.  There's some precedent for it, what with a really generous crafter out there who has some tutorials up for patches, and a site that has patch stencils available.  It obviously fills some kind of need!
Yrs,

AG
Question with 2 notes
yourfriendg00 asked: you ever wonder why we're here?
Lately for me the real question has been "What is this shit?!"
Yrs,
AG
Question with 4 notes
cumaeansibyl asked: wait, is Adam Ant the privateer to Ian Astbury's pirate captain???
Whoa whoa whoa that's a good question, that depends on which one you see as more legitimately rebellious I guess, doesn't it
I think regardless of which one is more rebellious, surely we all know that Billy Idol (he of "Siouxsie I'm bailing on our first gig, I've got a real music career to consider" fame) is the one who dresses the part, but just sits around in pubs trying to pick up impressionable ladies with his made-up stories about swashbuckling
Question with 1 note
ajaxsgirlfriend asked: that isn't just any alt model, that's nina flowers - she appeared on the first season of ru paul's drag race.
Awesome, thanks!  Also, I have no idea why I thought she couldn't cope with that hat—history has taught us otherwise: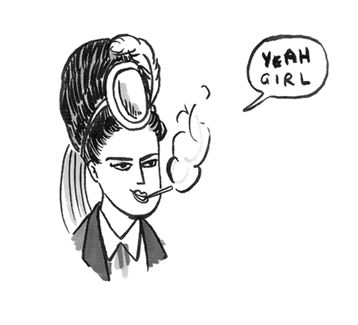 Yrs,
AG
Question with 13 notes
marianneferdinand asked: Aunt Gorgo, can you make a list of your top 10 songs at the moment? I need new music (or new old-pearls, or whatever) to listen to and I really trust you.
Whoa whoa whoa why would you trust someone who suggested people listen to Pop Crimes tho
Now I want to go all fancy and curate this but I think I'll just, like, whip 'em out:
"Dead Radio," Rowland S. Howard
"So the Story Goes," These Immortal Souls
"All the Money's Gone," These Immortal Souls
"Hospitalistische Kinder / Engel Der Vernichtung," Einstürzende Neubauten
"Pagan Lovesong," Virgin Prunes
"Returning from a Journey," Specimen
"What's Inside a Girl," The Cramps
"Mr. Clarinet," The Birthday Party
"Ave Maria," Rowland S. Howard
"Cascade," Siouxsie and the Banshees
IDK, that was difficult.
Yrs,
AG
Question with 2 notes
yourfriendg00 asked: what is a lip brush
IT IS A MAGICAL BRUSH FOR GROOMING YOUR LIPS SO THEY BECOME SOFT AND SMOOTH naw it's for applying lipstick and stuff.
Yrs,
AG
Question with 5 notes
yourfriendg00 asked: DO YOU LIKE PLAN 9 FRM OUTER SPACE
I DON'T KNOW, I TRIED TO WATCH IT AND COULDN'T GET INTO IT, BUT I AM BROADLY IN FAVOR OF IT AS A CULTURAL ARTIFACT
Question with 8 notes
alltowerswillfall asked: Which Nick Cave album should I listen to first?
I'm gonna open this up to the crowd, since I continue to be super ambivalent about Nick Cave's post-Birthday Party career.  If you're looking for Birthday Party recs, though, I think Junkyard is a pretty good album.
Yrs,
AG
Question with 2 notes
babyjudy asked: The second guy in the never apologise for selfies set is Gustave Courbet, French avant-garde painter. You might like his L'origine du monde (although be aware it's nsfw). He stirred up a lot by refusing to follow conventions of the time. Cool dude, awesome painter.
*cackling*  Oh ho ho, you won't get me that way—I've seen that painting before!  My old roommate, an art history major, leaped at me and waved it in my face one day in a fit of high spirits.  French dudes, eh?  Amirite?
Didn't he self-consciously create the "starving artist," "artist as genius" stereotypes as a way of getting attention for his work?  Given the dudes I had classes with during my short-lived art school career, idk if I should thank him…
Yrs,
AG
Question with 1 note
yourfriendg00 asked: YOLOOOOOOOOOOOOOOOOOOOOOOOOOOOOOOOOOOOOOOOOOOOOOOOOOOOOOOOOOOOOOOOOOOOOOOOOOOOOOOOOOooooooooooooooooooooooooooooooooooooooooooooOOOOOOOOOOOOOOOOOOOOOOOOOOOOOOOOOOOOOOOOOOOOOOOOOOOOOOOOOOOOOOOOOOOOOOOOoooooooooooooooooooooooooooooooooooooooooooooooooooooooooooooooooooooooooOOOOOOOOOOOOOOOOOOOOOOOOOOOOOOOOOOOOOOOOOOOOOOOOOOOoooooooooooooooooooooooooooooooooooooooooooooooooooooooooooooooooooooooooooooOOOOOOOOOOOOOOOOOOOOOOOOOOOOOOOOOOOOOOOOOOOOOOOOOOOOOOOOOOooooooooooooooooooooooooooooooooooooooooo
AUSDEMCHAOS I KNOW IT'S YOU, YOU RIDICULOUS CREATURE
YOU LEFT YOUR ICON THE SAME